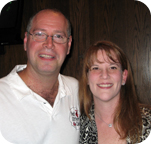 Founded in 1999 by James and Naomi Garfinkel of Great Neck, NY, Pet Sitters Club Inc. has provided pet sitting services to over 3,000 satisfied pet sitting customers throughout the North Shore of Long Island.
We started Pet Sitters Club because of the love or our cats. We always struggled to find excellent care for our pets and decided to provide the service that we were looking for ourselves. While we both graduated with business backgrounds, we chose this profession because of our tremendous love for the animals in our lives. We truly love what we do every day an that shows in the quality of the service we provide.
We look forward to meeting you and your pets.
Thank you for visiting our website!
Woof Woofs and Meows,
James and Naomi Garfinkel